Your marketplace for space
Turning vacant commercial space into thriving opportunities.
AirCommercial enables commercial Real Estate Agents to facilitate short-term leases with tenants.
Trusted by leading global brands :
AirCommercial is re-inventing commercial leasing.
Creating win-win-win scenarios.
Across major cities, commercial vacancy rates are on the rise. AirCommercial turns this problem into a platform for growth. By optimising empty commercial space, we create a win-win scenario for landlords, real estate agents, and businesses
What AirCommercial is offering
AirCommercial is pioneering a new approach in commercial leasing, focusing on short-term leases that range from 3 to 12 months. Our platform is designed specifically for real estate agents, landlords, and tenants, ensuring mutually beneficial relationships.
Optimise your retail footprint with flexible lease terms - Find the perfect fit with 3 to 12 month lease options.
Our platform matches quality tenants with suitable properties, thanks to a stringent vetting process.
We aim for a positive outcome for agents, landlords, and tenants, with features like 'first right of refusal' clauses and the option to finance security bonds through AirCommercial Finance.
Empty Space, Full Potential.
In recent years, Australia has witnessed a notable increase in retail vacancy rates across major cities, a trend exacerbated by the COVID-19 pandemic. As depicted in the accompanying graph, the vacancy rates have surged, reaching alarming figures in 2023.
This emerging landscape presents a ripe opportunity for AirCommercial to meet the immediate needs of property owners and potential tenants. This initiative is geared towards revitalising the retail sector, promoting business continuity and fostering a flexible leasing environment amid changing market dynamics.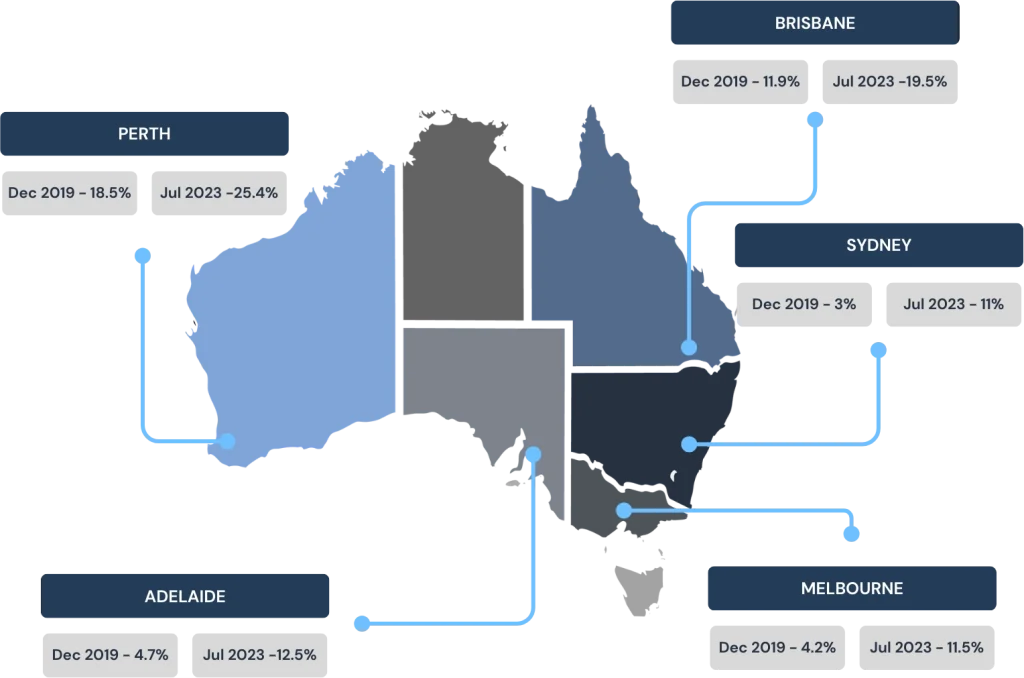 Why Choose AirCommercial?
In choosing AirCommercial, agents benefit from an integration of efficiency and increased visibility. Our platform simplifies the leasing process, from listing to contract, ensuring swift and smooth transactions.
Enhance your service offerings and maximize revenue streams by facilitating quicker property turnovers.
Fill hard-to-lease properties effortlessly and earn additional commissions.
Secure tenants without worrying about missing out on long-term opportunities, thanks to our flexible agreements.
Convert short-term tenants into long-term commitments, adding value to your services.
Use short-term leases to expand your tenant database and grow your rent roll.
Streamline the leasing process, reducing the time and effort involved.
How to partner with AirCommercial
Start your partnership with AirCommercial. We're dedicated to connecting you with the ideal tenants that match your properties.
Start by sharing details about your property portfolio with AirCommercial to tailor our services to your needs.
2. Marketing Transparency
Learn about our transparent marketing strategies and how they align with your properties.
Review and agree on flexible terms. Remember, there's no cost to partner with us; fees apply only after successful leases.
Complete the simple onboarding process and start working with AirCommercial to maximize your properties.
At AirCommercial, we're here to help you unlock the full potential of your commercial real estate. Whether you're a business owner seeking the perfect space, a real estate agent looking for rapid and reliable leasing solutions, or a property owner aiming to maximise your assets, our team is ready to assist you.
Discover our flexible leasing options: Explore our 3, 6, 9, and 12-month leases.
Maximise your listings: Short-term leases, long-term benefits.
Looking for personalised advice or specific solutions? Our experts are on hand to provide tailored insights that align with your unique requirements. Let's discuss how AirCommercial can transform your commercial real estate experience.
Your questions answered: navigating commercial leasing with AirCommercial
Discover the latest trends and insights in commercial real estate leasing